Welcome to Andrew Tatnell Mandolins
I build mandolins and related instruments in a small workshop in Canberra, Australia. I ethically source and carefully select each piece of timber for sound quality. Most instruments are made from Australian timbers.
There is no production line— instruments are made in pairs. I mainly use hand tools with few machines. I do not use computer driven shapers or routers.
All my instruments have matching timbers for the back, sides and neck; 'A' style oval hole and cross bracing; fairly wide string spacing/nut width; quality tailpieces and tuners; custom made bridges; hard evo 'gold' frets on radiused fretboards; carbon fibre neck strengthening and/or truss rods; and natural edge finishing.
Most importantly the instruments are made to maximise tone, volume, sustain and resonance. If you have not played a hand-carved mandolin, you will probably be surprised at how responsive they are compared with flat-topped instruments.
Example specifications for mandolins and mandolas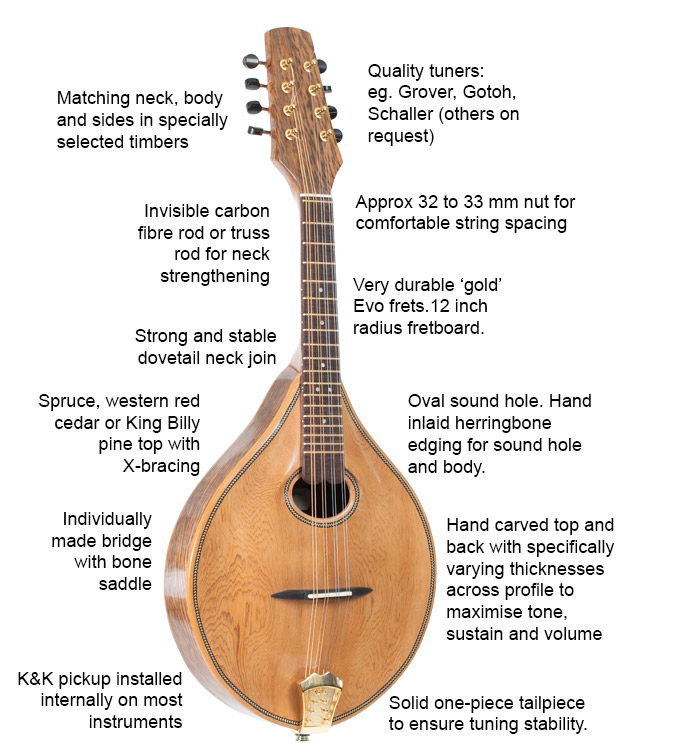 Carving for tone
My instruments all have carved soundboards and most now have carved backs as well. I find that the tone of carved instruments is more interesting than flat topped instruments and they are strong and light. They can be played softly or loudly providing a great range of volume for fitting in with other instruments or when soloing.
I make mandolins and mandolas with oval soundholes for aesthetic reasons, but I also prefer the sound.
Some instruments are fitted with the renown K&K pickups.
The search for tone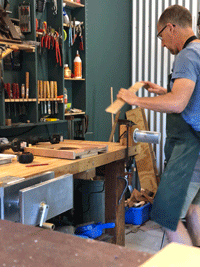 I have been working with wood since I was 15 years old. I still have and use the hand tools I bought when I was a teenager such as a set of Pfeil carving gouges. After years of playing different instruments, making electric guitars, cigar box guitars and electric bouzoukis, I have returned to pursuing the tone of mandolins both as a player and and maker.
I use repurposed and sustainably grown timbers and have built an energy efficient and healthy workshop. One of the great features of Canberra for instrument making is the low to medium humidity climate that helps keep my energy use to a minimum.
Please feel free to contact me to discuss instruments or perhaps play a few tunes.